If you're in the early stages of thinking about or planning to start a cannabis-related business, you're probably looking for expert advice. We did some research on these five books available on Amazon.com and their authors to save you some time and give you some insight into each of them.
A Budding Success: The Ultimate Guide to Planning, Launching and Managing a Lucrative Legal Marijuana Business
Authors: Charles Restivo and Cory Cervantes
Author Charles Restivo has been a longtime medical marijuana advocate. Restivo's bio says, "I was instrumental in obtaining Santa Barbara's first medical marijuana dispensary permit. I come from a finance and accounting background and I think of myself as an entrepreneur. I have learnt first hand how to run a successful storefront dispensary which is often quite a controversial business."
Restivo is also the co-author of "California Medical Marijuana Dispensary and Grower's Guidebook" as well as co-authoring "A Budding Success: The Ultimate Guide to Planning, Launching and Managing a Lucrative Legal Marijuana Business."
Restivo has first-hand experience with local policing, district attorneys, and the federal DEA including "numerous hours in court sessions and attorney briefings." Mr. Restivo's prior experience includes auditing various 501(c)(3) non-profit corporations and has experience with business valuation, acquisitions, and consulting.
Contributor Cory Cervantes began his cannabis career in the early 2000s, as a hydroponics store operator. For the last decade, Cervantes has been involved in dispensary operations, employee training, patient interaction and retention, city compliance, local licensing, oversight of large outdoor grows, extraction, and edibles manufacturing.
He has also managed multiple indoor and outdoor grow operations on the West Coast and was involved in the construction and operations of two cannabis dispensaries in Santa Barbara. He started a private consulting group to help clients to develop business plans, dispensary outlines and staffing, workflow structures, employee handbooks, product selection processes, and growing procedures.
He currently manages one of the longest-standing cannabis collectives and delivery services in the California Tri-Counties area.
According to the book's description, it provides, "first-hand expert guidance that carries you through every angle of planning, launching, and running your business."
This book has decent reviews with the biggest criticism being that it's a very basic guide for newbies but does not go into great detail. However, many reviews claim that it was informative for beginners.
Starting & Running a Marijuana Business (Idiot's Guides)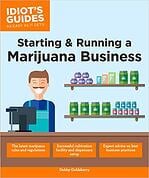 Author: Debby Goldsberry
Author Debby Goldsberry claims to have 30 years experience in the medical cannabis industry and in marijuana policy reform. Goldsberry co-founded the Berkeley Patients Group (BPG) medical cannabis collective in 1999, "setting the gold standard for best practices and community involvement." There, Goldsberry developed and implemented standard operating procedures for procurement, product safety, patient relations, and business management and operations that have been replicated by dispensaries around the nation.
Goldsberry co-founded and directed Americans for Safe Access (ASA), the Medical Cannabis Safety Council (MCSC), and Cannabis Action Network (CAN). She is a board member at California NORML, a former board member of the Marijuana Policy Project, and teaches Procurement and Patient Relations (Budtending) for Oaksterdam University.
Goldsberry is also currently the Ambassador at Magnolia Wellness in Oakland, CA, a model medical cannabis dispensary.
"Idiot's Guides: Starting & Running a Marijuana Business" is designed to help entrepreneurs "navigate this complex industry with careful planning and special considerations to make the most of your new venture."
In it, Goldsberry attempts to provide information such as best practices for securing locations and permits, dealing with the financial restraints, and managing the day-to-day aspects of running a business. It also provides insights on the legal challenges from state-to-state, expert advice on locating cultivation/dispensary sites, creating a business plan, securing finances, training staff, dealing with security measures, paying taxes, and offering medical patient counseling, and marketing strategies. She includes checklists designed to "ensure all systems are covered."
This book has overall good reviews (14) with a couple dings. Most of the more comprehensive 5-star reviews were written by people who know the author.
Start Your Own Cannabis Business: Your Step-By-Step Guide
Author: Javier Hasse
Javier Hasse is a writer and reporter with a focus on the cannabis and small-cap biotech industries and an advocate of marijuana legalization. He claims to have written more than 4,500 articles which have been published on a variety of mass media outlets including Playboy, CNBC High Times, Leafly, Benzinga, The Wall Street Journal's MarketWatch, Yahoo! News, Yahoo! Finance, CNN Money, MSN Money, Nasdaq, Morningstar, Microsoft, FOX Business, Investing Channel and many others.
In "Start Your Own Cannabis Business," Hasse mixes anecdotes and actionable tips from cannabis industry pros. She discusses how to put together a business plan including tips from cannabis lawyers. He also goes over startup costs with the help of cannabis-experienced CPAs. Other how-to information in the book includes, how to assemble a team of employees, and how to protect your assets in case something goes wrong with your business. It includes information on taxes regulations.
This book, published by Entrepreneur Media only has three reviews with one reader giving it four stars and saying, "I wish it was more direct than story telling."
The Entrepreneur's Guide to Cannabis: Concentrated Advice From 25 Industry Leaders
Author: Michael Zaytsev
The author of this self-published book, Michael Zaytsevare, says his passion is, "rooted in growing human capital, unlocking the benefits of Cannabis, and co-creating a consciousness evolution together with the world's greatest leaders."
Zaytsevare, a self-proclaimed "leadership and business coach" claims to have been highlighted in Bloomberg, Mashable, Vice, Inc., The Guardian, Village Voice, The Huffington Post, NY Daily News, Mic, Complex, Time Out New York, and has been invited to speak at TEDxBushwick, DEF CON, Gratitude Migrations, Hacking Health NYC, Women Grow, Cannabis World Congress, New England Cannabis Convention and others.
Zaytsev has worked in wealth management at J.P. Morgan and in enterprise sales at Google. After facilitating a Leadership and Teamwork Training course at Google, Michael became fascinated with coaching. He left Google, earned his Professional and Master Coaching certifications, and started a coaching business. Michael also runs High NY, one of the world's largest Cannabis Meetup groups. He consults with entrepreneurs and businesses on sales strategy, brand marketing, and peak performance. Michael is a member of the Forbes Coaches Council and regularly contributes to Forbes.com on cannabis and coaching topics.
To write this book, Zaytsev claims to have interviewed 25 of the Cannabis industry's most successful leaders including, Steve DeAngelo, CEO of Harborside Health Center, the world's largest Cannabis dispensary, Ethan Nadelmann, Executive Director of the Drug Policy Alliance, described by Rolling Stone as "the real drug czar," Scott Reach, CEO of Rare Dankness, winner of multiple Cannabis Cups, Betty Aldworth, Executive Director of Students for Sensible Drug Policy, a multinational advocacy organization, Cy Scott, Co-Founder of Leafly, and others.
This book has mixed reviews with the biggest complaint being that it's very short and thin on details and citations. A quick read for newcomers but appears to have a lot of information that's available online for free.
Marijuana Business: How to Open and Successfully Run a Marijuana Dispensary and Grow Facility
By Jeffrey Grissler
Although the author of this book, Jeffrey Grissler, is not an expert on the cannabis industry, he has a good deal of experience helping to start small businesses. And, according to one review of the book, "Jeff does seem to understand people and his general advice on employees was astoundingly insightful."
This book, which focuses primarily on Colorado industry, is billed as "a step-by-step guide to help you be on the winning side of this Green Rush."
Grissler attempts to help budding cannabis entrepreneurs to visualize, dream, plan and organize a cannabis venture including picking a location, selecting legal and financial teams, and financing your business venture. It also includes information on how to build a business plan.
More specific to the topic it also attempts to explain how to design a dispensary and grow facility and has growing tips.
This book has mixed reviews on Amazon with one reviewer calling it, "a good book about how to start a general business with a bit of cannabis information scattered in."