Holy smokes Batman! What a fantastic weekend! I was so excited when the company I work for, Viridian Sciences, told me I was going to Hempfest in Seattle WA! My first time…yes, I was a Hempfest virgin. I had heard of it, seen it on television, talked to my daughter who has been to several of these festivals, but I had never been brave enough to go. Why…well really, I don't know why. Can't give a good reason other than just too lazy to go. Now I have been there and want to go back again! So much fun! Dang! I did not know what I had been missing! Not going to miss it again!
We got there on the morning of Friday August 15 and got all set up for the crowd to come in at noon. We had stress balls, Frisbees, t-shirts and just like the ZZ Top song, we had cheap sunglasses. Our booth was so cool, we had two stand ups (one is Uncle Sam with a bong and the other is a computer smoking a joint) you could take your photo with by putting your head in the hole, as my co-worker said to many "just the tip tho" ha, ha… We had a blast talking with people as they strolled past us. We would toss Frisbees out into the crowd and play games with them. Having them toss the stress balls through the holes in the stand-ups where your face went, we gave prizes of the t-shirts, and other swag we brought with us. Tossed the balls to the tiny tots. We gave out sunglasses to all the needy folks that forgot the sun does come out in Seattle once in a while…LOL
It was pure sensory overload all weekend long, as the throngs of people passed by our booth dressed in every kind of garb you can imagine. There were hippies, fairies, wizards, Goth, business people, people in so many different costumes, some very elaborate and some just simple. Some people only had strategically placed stickers to cover sensitive places from the sun. Speaking of the sun, wow, lots of sunburns all over the place, including yours truly. But you know what happened….no one got booted from the festival for fighting or causing a ruckus. It was a weekend of peace, love and sharing of herb. A few folks did not drink enough water and had to be taken out of the park for dehydration, but…nothing more serious all weekend long.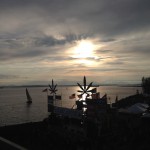 The view we had the entire weekend was incredible. We were at the Myrtle Edwards & Centennial Parks in Seattle WA, not far from Seattle Center and right next to the ferry docks. Gorgeous view of the bay, watching the ferries cross back and forth all day. Sailboats, birds and people playing on the beach and in the bay. There were over 900 different vendor's booths lining all sides and in the center of the park. There were vendor's selling food, clothing of every color and style, glass vendor's offering so many different artfully made bongs, pipes, and dab rigs. Some booths were just for the sale of Hempfest shirts and other items, some with just information on different causes or political edging.
Beyond the organized vendor booths, there were individuals laying out blankets to sell various inexpensive pipes and other trinkets. People lined all the walking paths just vegging on the grass smoking happily and happy to share a blunt with a passerby now and then. Though illegal, there were some folks willing to sell you some very nice nugs and joints if you were dry and needed a little to help enjoy the freedom of the new recreational scene.
New at Hempfest this year were the two adult 21 and over smoking areas. Similar to a beer garden, you showed your ID at the gate to a security person, went in, sat down, lit up and imbibed legally as all responsible adults should be able to do. It was a fantastic experience to be able to light up freely in public with a few thousand close friends I never knew I had. Even with the two smoking lounge areas, there were people openly and freely lighting up and walking around in the park and still…it was peaceful…there was a police presence…but they did not stop folks from being free and enjoying themselves.
There were six stages with every kind of music you could imagine or never imagined being played all day long, with very impassioned but informative speeches sprinkled in between the bands. I had the pleasure of hearing such speakers as Ed Rosenthal, Rick Steves (gave Mr. Steves one of our Viridian Sciences t-shirts), Paul Stanford, Governor Gary Johnson, and many others. One of the speakers I got to hear was Viridian Sciences own Diego Barriga. He spoke on the topic of Social Responsibility and introduced our new non-profit foundation CHARMSU - CANNABIS & HEMP AWARENESS FOR RESPONSIBILITY, MONITORING & SAFE USE.
Below are a couple articles from the Seattle Post Intelligencer, these are two of the speakers who were at Hempfest:
Hempfest 2014: Republican declares war on marijuana 'really, really stupid' … crowds cruise happily http://bit.ly/1mntK2F Pete Holmes, Rick Steves at Hempfest 2014: Protect your civil liberty to smoke a joint http://bit.ly/1s0VJIT
But when the time came to be serious, we all took turns talking and explaining our product to interested passersby. Here is what we talked to folks about all weekend long:
"Viridian Sciences offers all-in-one business management software solutions for the cannabis industry. Our mission is to help you grow your business by providing the world's leading enterprise resource planning technology while helping your company adhere to government regulations with complete legal compliance. Our software enables your cannabusiness to run efficiently with automated inventory tracking, seed to sale reporting, financial accounting, grow management, quality control, and many other essential tools to help you succeed. Grow your business with our industry leading, cutting-edge, cannabis software solution."
After repeating this (or something very close to this) many, many times over, I think I lost my voice! We went home tired, sun burnt, and sore from standing and walking, but we went home energized. That weekend, we let the world know Viridian Sciences is here and ready to take on the world. Peace ~The Weed Viking~