One year ago this week, Viridian Sciences posted "State of the Cannabis Industry." In terms of time, it seems like just yesterday. In terms of progress, it seems as if decades have past. Let's take a look at some of the big news from the past 12 months.
The United States Lifts Ban on Hemp
In the fall of 2018, Mitch McConnell, a Republican senator from Kentucky, drafted legislation intended to legalize the production and sale of hemp and its derivatives. The language from McConnell's hemp bill would eventually find its way into the 2018 federal farm appropriations bill, The Agriculture Improvement Act of 2018 — a smooth move by McConnell, and one that one change the course of cannabis history forever by divorcing hemp from the federal definition of marijuana. Under the new law, THC levels must fall below 0.3% to qualify a cannabis crop as hemp. The Act also for the first time in decades permits for the licensed commercial cultivation of hemp under a partnership of state and federal regulations.
Essentially, hemp was removed from the auspices of the Drug Enforcement Agency and the Department of Justice and transferred over to the Department of Agriculture and the Food and Drug Administration. Both agencies are working diligently to incorporate rules for the production and sale of hemp into their regulatory rules.
If you're involved in the cannabis industry in any way, unless you've been hiding in a cave for the past 4 months, you already know this much. But what impact has the measure had on the industry in the few months since its passage?
To date, more than 40 states have defined industrial hemp as distinct from marijuana. Meanwhile, the USDA has begun the process of creating regulations for commercial production of industrial hemp.
The FDA came out of the gate with good news and bad news. The good news was that the agency plans to work towards developing rules related to the use of CBD in food products and as a health supplement. It's important to interject that earlier in 2018, the FDA approved a CBD-based prescription drug for use in treating certain cases of childhood epilepsy, a move that is sure to factor into any new rules.
The bad news was that the FDA declared that the adding of CBD to foods and beverages is prohibited resulting in a slew of state and local-level warnings to restaurants and cafes which had been selling these CBD-infused products. (Interestingly, the states involved don't seem to mind the fact that marijuana is still federally prohibited as they continue to allow it's cultivation and sale.) This prohibition of the addition of CBD to foods may be lifted by the end of the year if advocates can convince the FDA that CBD is worth of GRAS status (meaning generally regarded as safe for human consumption).
In an effort to speed up the FDA's efforts a group of bipartisan lawmakers penned a letter to the agency asking that agency clarify its position post haste. On a side note, FDA head, Dr. Scott Gottlieb, announced his resignation last month further clouding the issue.
Under the farm bill, the USDA has been charged with developing regulations for the cultivation and processing of hemp. The process was delayed somewhat due to the federal shutdown earlier this year, but on March 13th, the agency hosted a hemp listening session to receive feedback from stakeholders.
McConnell's home state of Kentucky was the first to submit its hemp plan to the USDA. Kentucky hemp processors reported nearly $58 million in gross sales for 2018, up from about $17 million in 2017. The state has so far approved more than 50,000 acres (20,234 hectares) of hemp production for 2019, more than triple the approved acreage in 2018. Another 6 million square feet of greenhouse space has also been approved.
In North Carolina, another agricultural state with a stake in hemp, officials predicted that 100 counties will soon be growing hemp. The number of growers is expected to surpass 700, up from about 500 in 2018. As of March 7, North Carolina reported 7,922 acres of hemp and nearly 3.5 million square feet of greenhouse space. By the end of February 2019, the number of hemp processors in the state grew from 44 in early 2018 to 393.
In Oregon where most of the country's CBD oils are currently produced, hemp sales are expected to leapfrog the state's cattle industry and surpass $1 billion. So far this year, 35,000 acres have been licensed, up from only 12,000 acres last year.
Many other U.S. states big on agriculture are working legislation geared toward implementing or expanding their hemp programs, including California, Florida, Idaho, Illinois, Montana, Massachusetts, Delaware, Pennsylvania, Connecticut, Ohio, Montana, Alabama, Oregon, Texas, Washington, Minnesota, Iowa, Georgia, Indiana, Wyoming, Nebraska, New Mexico, and others.
Just how big do experts think the hemp industry can get? The Hemp Business Journal projected that the hemp food market (non-CBD) will grow from sales of $124 million in 2018 to $186 million by 2022, while CBD sales will grow from $390 million in 2018 to one approximately $1.3 billion by 2022. Other analysts have put forth estimates that are both somewhat lower and much higher than these.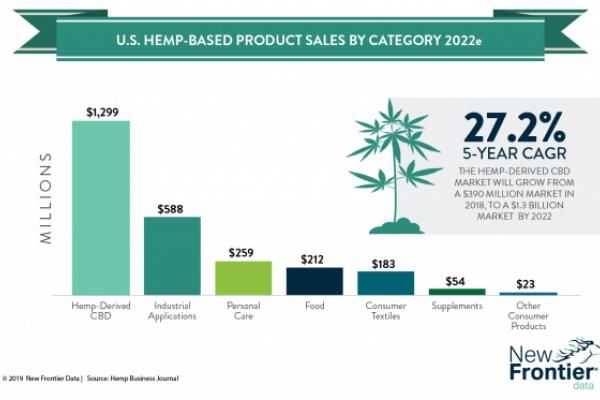 With kind of money at state, the cannabis industry has been quick to mobilize assets to take advantage of hemp's newfound freedom.
Canadian licensed producer Tilray Inc. has acquired the world's largest hemp-foods manufacturer, Manitoba Harvest, for $319 million. The company's products are sold at more than 16,000 retail stores.
Not to be outdone, another Canadian cannabis giant, Canopy Growth announced plans to develop hemp production facilities in New York State and have pledged to invest at least $500 million. Shortly after breaking this news, the company announced a partnership with Martha Stewart to develop a line of CBD products.
Some big name brands have also gotten on the hemp bandwagon including Levi's blue jeans which announced plans to develop a denim fabric made from a blend of cotton and hemp.
Moreover, some of the biggest names in retail including CVS, Walgreens, and Rite Aid. CVS intends to sell CBD products made by Curaleaf in 800 stores in 8 CBD-friendly states. And Carl's Jr. has even announced that they will be selling a CBD-infused burger on 4/20. The price: $4.20, of course.
Further reading:
Canada Legalizes Recreational Marijuana Sales
The second big story of the past year is Canada's move to legalize the recreational use of marijuana making it the first G7 nation to do so. Last summer, lawmakers to the north approved regulations and by early October, Canadian dispensaries had begun selling recreational marijuana. Although recreational sales got off on a rough start with shortages and a postal strike cutting into projected sales, these issues are slowly being ironed out.
The big story of the past year related to Canadian LPs is the rise and fall and resurrection of Canadian pot stocks. Most still have not surpassed the highs posted around this time last year.
As in the U.S. Canadian LPs have been busy with expansions, mergers, acquisitions and partnerships with established corporations. Here are a few of the deals that have gone down in the past year:
Aurora Cannabis Inc. acquired Markham-based MedReleaf Corporation in an all-stock deal worth $3.2 billion. It was the largest ever Canadian cannabis deal.
TIlray announced a joint venture with Labatt Brewery. Each company will contribute $50 million to create cannabis and CBD beverages for sale in Canada.
Constellation Brands announced a partnership with Canopy Growth to research the possibilities of developing cannabis beverages.
Canopy Growth also announced a deal to acquire Hiku Brands, a retail-focused craft cannabis producer for CA$269 million.
Tobacco giant Altria invested $1.8 billion in Canadian producer Cronos Group.
Further reading:
Majority Support for Legalizing Cannabis
Public approval for ending the federal prohibition of marijuana has reached an all-time high over the past year with a vast majority of Americans now in favor of medical marijuana, and around two-thirds in favor of ending federal prohibition. Even more telling, support from Republican voters surpassed the 50 percent mark.
A poll conducted by Gallup and published last October reported that 66 percent of all adults are now in favor of legalization. That's the highest percentage ever reported by the polling firm. Polls by Pew and the Center for American Progress reported similar results.
During last year's midterm elections, voters in four states approved marijuana reforms, with Missouri, Oklahoma, and Utah became the 31st, 32nd, and 33rd states to approve medical cannabis laws, and Michigan became the tenth state to legalize recreational marijuana. Earlier in the year, Vermont lawmakers also enacted provisions which permit adults to grow and possess marijuana.
Candidates for Governor also benefited from the surge in support as governors in Connecticut, Minnesota, and Illinois pledged to legalize marijuana were elected. Also, the Governor of New York was reelected and has since pledged to enact adult use legalization in 2019.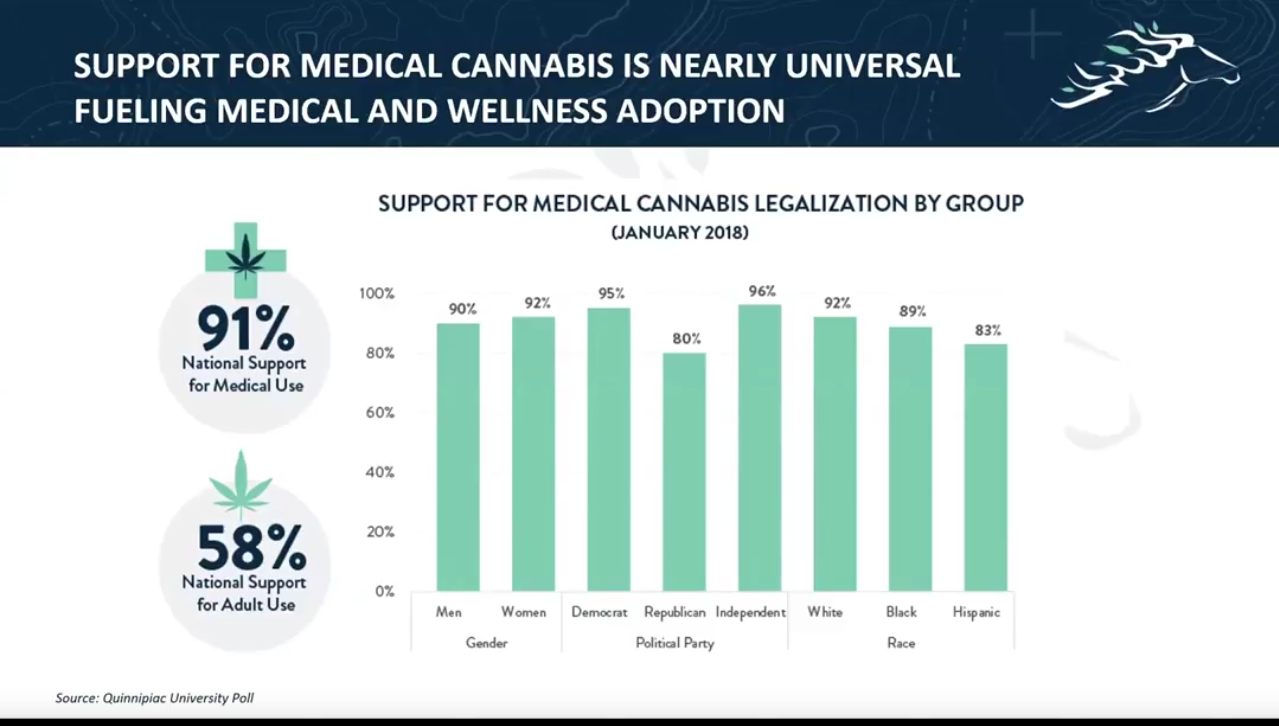 Recreational sales officially kicked off in a number of states in the past year such as Massachusetts and Michigan. And a handful of other states such as New Jersey and Connecticut are also looking into the possible lifting of prohibition.
A number of states have also moved to expunge past marijuana convictions with California becoming the first state to do so under legislation enacted in October. Delaware also implemented similar measures. Moreover, on a local level officials in a number of U.S. cities including Denver, Philadelphia, and Seattle, are working toward the same.
Further reading:
Federal Cannabis Policy Reform Looks Imminent
Shortly before the midterm elections, a stalwart in federal cannabis reform, Earl Blumenauer sent a letter to congressional leaders in which he outlined a path toward ending the federal prohibition of marijuana.
The midterms brought good news for cannabis advocates as Democrats took back the House of Representatives giving hope that Blumenauer's plan might actually have a chance of coming to fruition. Democrats gained no less than 40 seats in Congress on election day in the biggest turnover since Watergate.
Shortly after the elections, Massachusetts Democratic Rep. Jim McGovern who was to assume control of the House Rules Committee starting in 2019, announced that, unlike his Republican predecessors, he would permit cannabis reform measures to be debated and voted upon. McGovern replaced outgoing Rules Chair and avid prohibitionist Pete Sessions, who lost his re-election bid in Texas. During his tenure Sessions had blocked any cannabis-related measures. NORML had referred to Sessions as public enemy number one when it comes to cannabis reforms.
Another Sessions, ousted U.S. Attorney General Jeff Sessions, also a staunch opponent of legalization, was fired by President Trump. His replacement __ Barr, although he has expressed that he would prefer that marijuana be illegal across the country said that he would prefer ending prohibition to the current situation where states are essentially snubbing federal cannabis policy. With both Sessions out of the way, progress is being made in Congress.
In a historic move, Congressional Democrats on the House Financial Services Committee recently held a hearing on a bill known as the SAFE Banking Act, intended to loosen up banking restrictions on the cannabis industry. Introduced by Rep. Ed Perlmutter with 132 Democratic and 12 Republican co-sponsors, The SAFE Banking Act would allow banks to offer banking and other financial services to cannabis operations. The U.S. House of Representatives is slated to vote on the bill some time this session, despite continued calls from Republicans to delay a vote.
In even more exciting news, a bipartisan group of lawmakers from both the House and Senate recently introduced The Strengthening the Tenth Amendment Through Entrusting States (STATES) Act. The measure is intended to protect state legal cannabis operations from federal intervention by amending the Controlled Substances Act. Odds actually look good that some measures along these lines will be approved by the House, at least, this year. Passing the Republican-controlled Senate might be another story but many lawmakers and advocates are hopeful that this will be the year the feds end prohibition.
In an interview with Marijuana Moment, Blumenauer said, "I've been working on this for four decades. I could not be more excited." He called the STATES Act, "a landmark" in federal cannabis reform. Moreover, last year, President Trump implied that he'd be likely to sign the bill should it pass.
In another interesting development and a sure sign of the times, every single one of the candidates running for president in 2020 has expressed support for ending federal prohibition.
A mere three year ago, during the 2016 election, any mention of support for ending cannabis prohibition was half-hearted at best. Today legal weed has gone from a novelty issue to a must-have policy plank, at least for Democratic candidates. There is also a surprising level of support among Republican hopefuls.
Further reading:
U.S. States Forge Ahead On Legalization
The move toward the legalization of marijuana for therapeutic and recreational purposes continued to steamroll across America in the past year with legislative proposals and voter initiatives now taking place in more than half of U.S. states.
Currently, the vast majority of Americans live in states where marijuana is legal in one form or another. A total of 34 states now have cannabis laws that conflict with federal laws. Ten states have gone so far as to legalize the adult use of marijuana for recreational purposes.
States currently batting around ideas for decriminalizing, legalizing, regulating recreational cannabis include Arizona, Florida, Hawaii, Illinois, Kentucky, Maryland, New Jersey, New Mexico, New York, North Carolina, North Dakota, Pennsylvania, Rhode Island, and Vermont. And states looking into implementing or expanding medical marijuana programs include Nebraska, Tennessee, New Hampshire, Texas, and Wisconsin among others.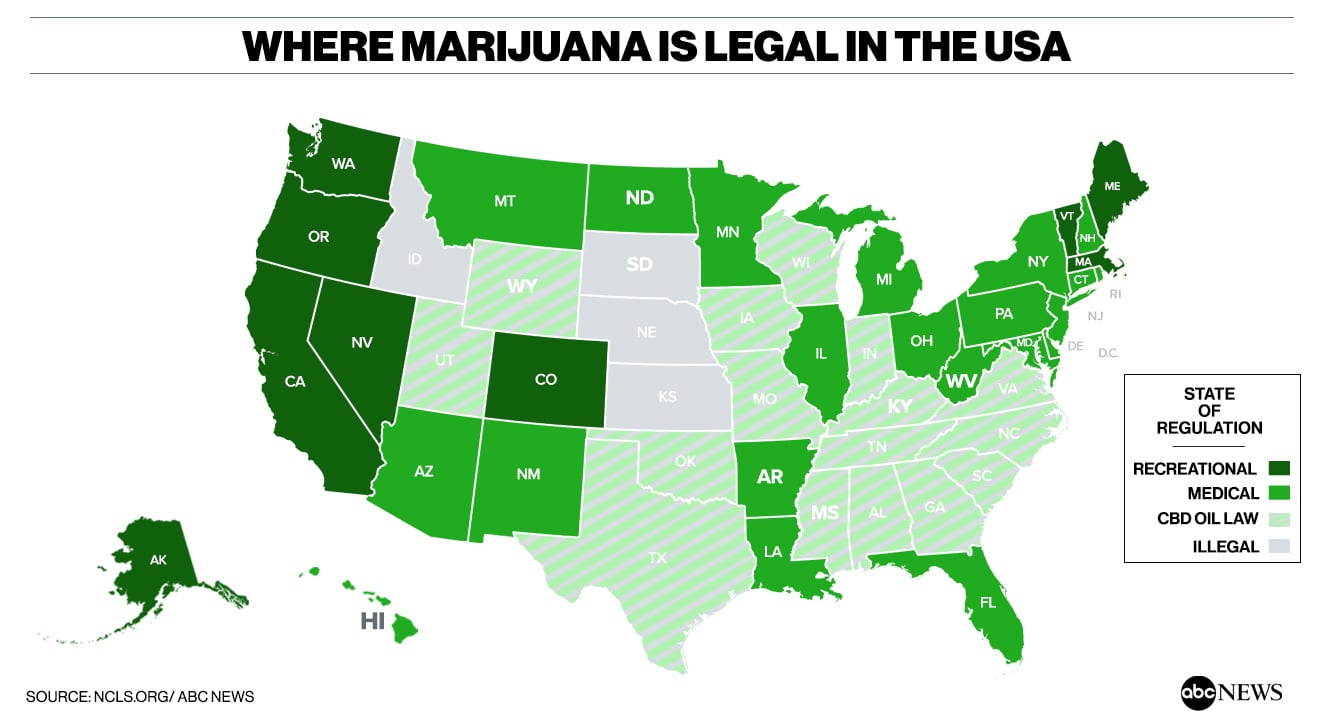 Around the World
North America is not the only place in the world where cannabis policies are undergoing major reforms. Countries on all continents are looking at what's going on here in the U.S. and Canada and considering legalization measures of their own. Currently, more than 30 countries have some form of legal cannabis. And hemp is being cultivated for commercial purposes or research in nearly four dozen countries.
Another factor in international consideration is the World Health Organization's recommendation that cannabis and its resin be removed from the most restrictive category under a 1961 international drug control treaty. Moreover, the UN-based agency said that CBD containing less than 0.2 percent THC should be removed from international drug treaties altogether.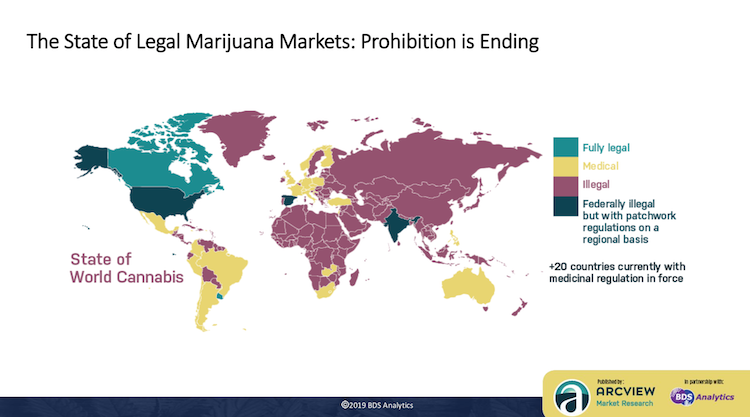 Here are some of the developments in cannabis reform from around the globe.
South Korea has become the first country in East Asia to legalize medical marijuana after the country's National Assembly voted to approve amendments to the "Act on the Management of Narcotic Drugs."
Israel has become the third country to approve a measure allowing the export of medical marijuana joining both Canada and the Netherlands.
Mexico may soon be following in the footsteps of Uruguay and Canada, legalize recreational marijuana making Mexico only the third country in the world to legalize the cultivation and consumption of cannabis. In November, justices for Mexico's Supreme Court also struck down the nation's marijuana ban.
Thailand's National Legislative Assembly approved the use of medical marijuana.
Luxembourg has signaled its intention to pursue full legalization.
Portugal, Czech Republic, Holland, Spain, and Germany have all moved ahead with robust medical marijuana or decriminalization measures.
Further reading:
Growth of the Cannabis Market
Ten billion seems to be a lucky number for the cannabis industry over the past year. Legal marijuana sales officially surpassed $10 billion in the U.S. in 2018, while investors doubled down pouring just over $10 billion into cannabis ventures in North America in 2018. That's more than twice the capital invested in the industry in the three previous years combined. And that figure doesn't include billion-dollar investments already made in 2019 by big players such as Altria's $1.8 billion investment in Cronos Group.
A recent survey of cannabis users stated that adult use is up by ten-million persons since 2009. The study was released by New Frontier Data and MJ Freeway which claims it reviewed over a billion dollars in sales data.
The combined North American cannabis market is expected to surpass $16 billion in 2019.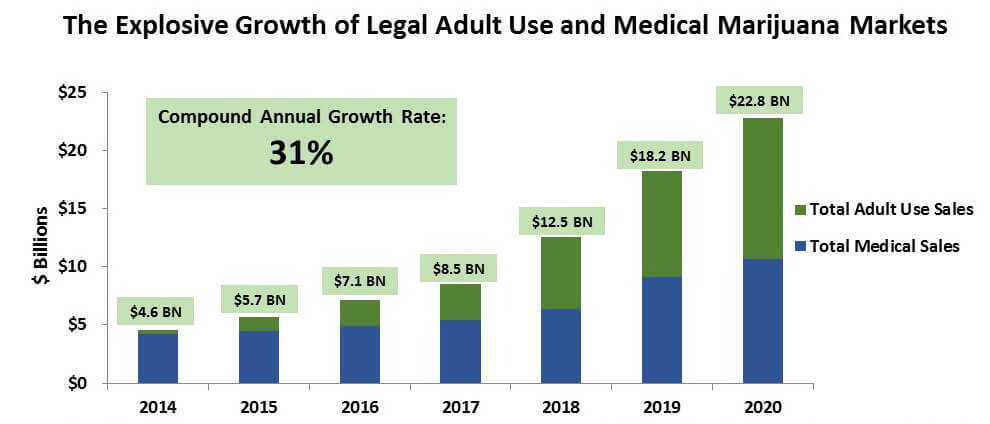 New Frontier Data recently released an updated report on the state of the cannabis market. "The U.S. Cannabis Report: 2018 Industry Outlook," states that the legal cannabis industry will continue experiencing rapid, sustained growth over the next few years with several years of sustained double-digit compound annual growth rates. The report projects medical marijuana sales to grow by 11 percent year and recreational cannabis to grow by 18 percent per year.
New Frontier also issued its "State of CBD" report which predicts that a $1.2 billion CBD market is likely by 2020. According to the report, one-third of the market share will come from hemp-derived, marijuana-derived and GW/pharma-derived CBD. The report also claims sales of hemp-derived CBD surpassed sales of marijuana-derived CBD for the first time.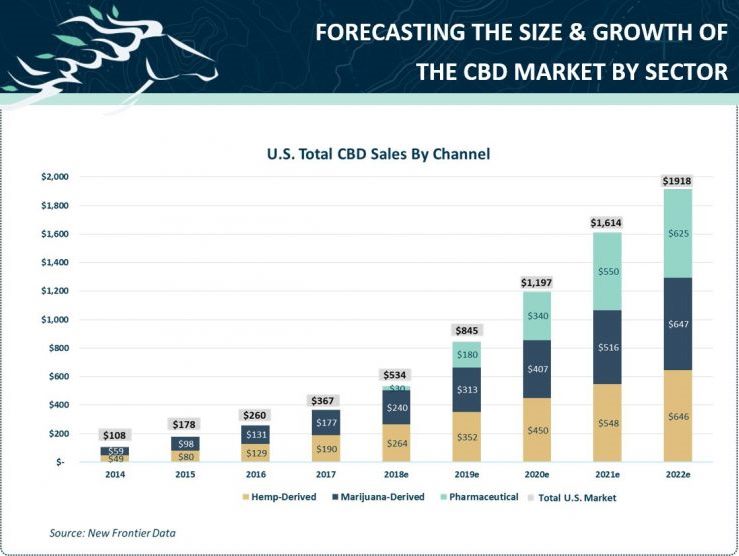 One of the more interesting developments in the cannabis market is the fact that data suggests demand for flower will continue to drop, while demand for vape oils and concentrates will grow. New Frontier says new growth segments such as younger moms and older consumers rely on the "discreet, non-smoking" edibles, concentrates and vaping options.
On a side note here, in the largest U.S. cannabis industry acquisition to date, Arizona-based Harvest Health & Recreation acquired Verano Holdings of Chicago for $850 million in stock. And the previous record for a U.S. acquisition in the cannabis industry was MedMen's $682 million all-stock purchase of PharmaCann back in October. With this deal Harvest now operates a total of 123 dispensaries in 16 states.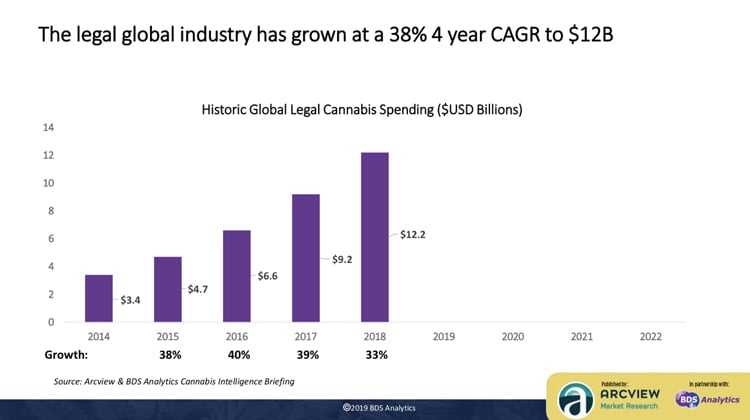 Further reading:
Cannabis Industry Boasts Fastest Growing Job Market
A good indication of just how substantial the cannabis industry has become is the fact that it now boasts the fastest growing job market in the U.S. According to employment platform Joblift, job growth in the medical marijuana sector is "outstripping the national average."
In 2018, the number of plant-touching jobs in cannabis (not including hemp) reached 259,000 and is on pace to surpass 500,000 jobs by 2022.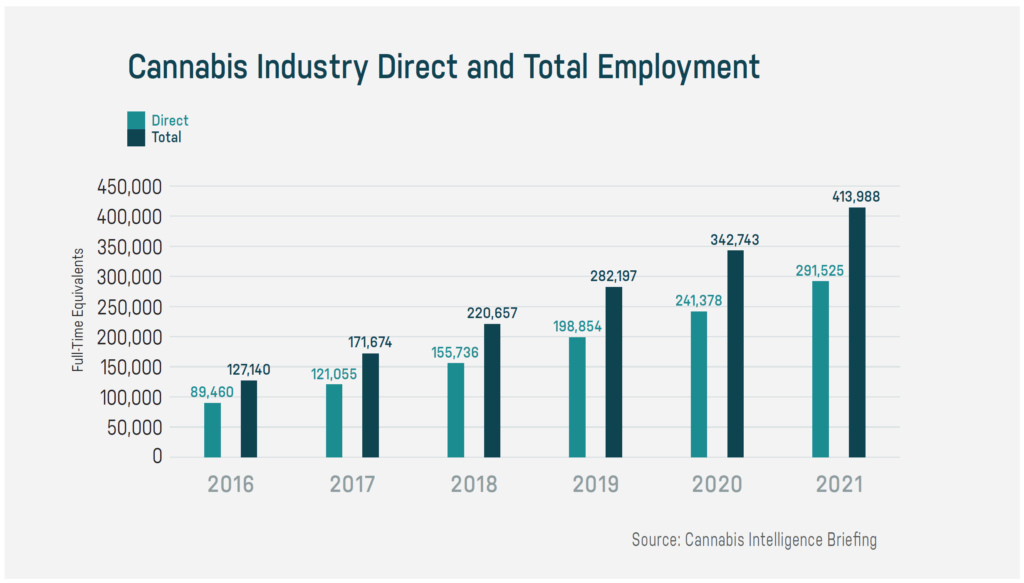 Here are some facts and figures related to U.S. cannabis employment.
Google searches for medical marijuana jobs increased by 43 percent from the last half of 2017 through the first half of 2018.
There has been a 24 percent increase in job postings during the first half of 2018 compared to the last half of 2017.
At least 15 percent of job postings requiring highly skilled professionals such as physicians, nurses, pharmacists, according to the data.
According to a report by Leafly and Whitney Economics, the marijuana industry added 64,389 jobs in 2018, an increase of 44 percent from the year before.
There are currently well over 200,000 legal cannabis jobs in the U.S.
When ancillary business is factored in, that number jumps to 296,000.
The number of legal marijuana jobs in the U.S. now surpasses coal mining (52,000), textile manufacturing (112,000), and brewery workers (69,000).
California, alone, is projected to add more than 10,000 cannabis jobs this year.
Pennsylvania, Massachusetts, and New York each saw the most significant increases in medical marijuana job postings over the first half of 2018 compared to the prior six months.
There are now a quarter-million jobs devoted just to the handling of marijuana plants.
ZipRecruiter.com also announced that the industry's job growth is outpacing all other industries in the United States.
Cannabis company Organa Brands became the first industry business to be named a 2018 Top Workplace by The Denver Post. This was not a cannabis specific list, showing the industry is becoming more and more mainstream.
Further reading:
In other news:
Here are some more tidbits of cannabis industry news that have happened over the past year:
The NFL may end its ban on cannabis.
Another study has confirmed that cannabis is well-tolerated by elderly patients.
Facebook has hinted that they might lighten up on marijuana-related content.
Former Republican Rep. from Florida, Carlos Curbelo joined the Cannabis Trade Federation.
The legendary newscaster Tom Brokaw endorsed medical marijuana.
The EPA began funding research into hempcrete.
Three Federal Reserve Bank presidents called for clarity on rules for providing financial services to the marijuana industry.
Both the Canadian Airport Authority and LAX officials loosened cannabis possession rules.
Marijuana use among senior citizens is now equal to teen use.
A coalition of major civil rights organizations such as AARP, AFL-CIO, American Federation of Teachers and League of Women Voters, and others is called on Congress to completely remove marijuana from the Controlled Substances Act.
A Congressional report by Joint Economic Committee Democrats claimed marijuana sales will reach $11 billion in 2019 and could reach $23 billion by 2022.
Former Coca-Cola exec Eugenio Mendez joined the Stanley Brothers team at Charlotte's Web.
Former Mass. Gov. Bill Weld and the former speaker of the House John Boehner joined the board of directors of Acreage Holdings.
Movie star Seth Rogen joined forces with Canopy Growth to launch his Houseplant brand of pre-rolls.
An Israeli study suggests that cannabis oil can improve symptoms related to autism.
MedMen Enterprises surpassed both Apple and Tiffany's retail stores in revenue per square foot.
A Florida judge overruled state lawmakers to reverse a ban on smokables.
High Times acquired CULTURE Magazine.
Alaska approved the licensing of social consumption venues.